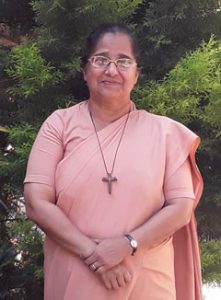 Clareville,  14.06.2016
Dear Friends,
Will truly help us to be more compassionate and reconciled in our communities, apostolates and in places wherever we are called to serve and let us have the grace and strength to put the interest of the poor and the weaker sections of the society at the heart of our community activities. Let us remember that through our life style and ministries we are called to be the prophetic witnesses, showing the Gospel way to the people of God.
In all our educational institutions, along with the academic excellence, it is very urgent that we give them a human formation specially insisting on moral values and safe guard human life and the dignity of the person. Let us have the grace and humility to walk always in the light of the Lord so that we will have the strength to say NO to all that is contrary to Gospel values.
I thank God for you dear sisters for your academic excellence in all our institutions. You who are directly or indirectly involved in the teaching ministry are the real strength of the nation and you should always aim at the wholesome character and personality of your students.
As Consecrated teachers, by your very life, reveal the person of Christ to your students, parents and the society and try to inculcate and imbibe in them the Gospel values of justice, equality, sacrifice, honesty and tolerance. Let all our institutions become Eco-friendly by growing more trees in our campus. Let us care for the environment which is facing serious threats for a healthy living and teach our students the importance of cleanliness and the urgency of saving water and electricity.
Dear Sisters, as teacher educators remember that the students entrusted to you are the pride of our country and the wealth of our nation. May God be with you in all your efforts to give the best to the students for they will be deciding the destiny of our nation tomorrow.
Sr. Miriam
Provincial