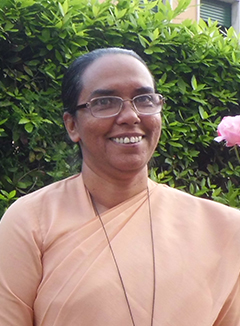 Dear sisters and friends,
Today more than ever we hear and experience unpredicted and shocking news and realities; natural and man made catastrophes. When these things take place elsewhere for many of us it remains only media information or a prayer intention. Why? Because it does not happen to us or to our dear ones.
Victims of these events display different emotions : sadness and pain, anger and disappointment, questions without answers… with solidarity and hospitality,in gratitude and thanksgiving towards others… in faith and assurance that our God will not abandon us His beloved children.
The whole world watched the floods washing away houses, vehicles, animals…..
This same world also witnesses the solidarity, help, support and sharing to help the victims to get up and move forward.
There were separations among us and today…
In the camps there were no differences between the rich and the poor, no difference of religion,cast or creed. All experienced the same. All accepted the conditions offered. Why because everyone wanted to live.
What does this recent catastrophe tell us? Wealth does not ensure our security. Rich or poor, white or black,every human life is precious. Let us live in unity, harmony, sharing,keeping in mind that we are only care takers and not proprietors of all that is entrusted to us.
What is the result of this disaster that the world witnessed? Unity and solidarity, no divisions based on caste, creed, religion, wealth but all are one. May God be praised and glorified for all those whorisked their lives to save others.
At this juncture we are invited to pray:
« I lift my eyes to the mountains
From where shall come my help.
My help shall come from the Lord,
it is He who made heaven and earth .
So let our hearts and hands flow out in compassion and generosity towards all victims. Let our lives inspire also others towards an unconditional generosity.
In the recent weeks the media revealed to us scandals caused by the religious,priests, Bishops. One or two events gave chance to open scores of events of the past. Sometimes we are lost. We ask if it is true.Are there not many exaggerations? Make your own discernment.
Because of the weakness of a few where are the lives and services of so many holy men and women who have dedicated their entire lives for the cause of the Gospel and lived faithfully till the end? There may be truth in what we heard. We all need to know that we are all human beings capable of falling. Falling is human but rising is divine. Are we willing to rise up and begin a new?
At this time we need to ask: Is my life, my services and my projects credible of my consecrated life and do they serve for the construction of the Church or for its destruction? What is the image of Christianity projected by each one of us who is committed to the cause of Christ, before the other religions?Whether the happenings around us are true or not, we need to be convinced that our credibility is at stake.
Let us be credible in a world where our credibility is at stake.
Sr. Reetha Paul
Superior General