On Going Formation
A Journey towards charism through formation course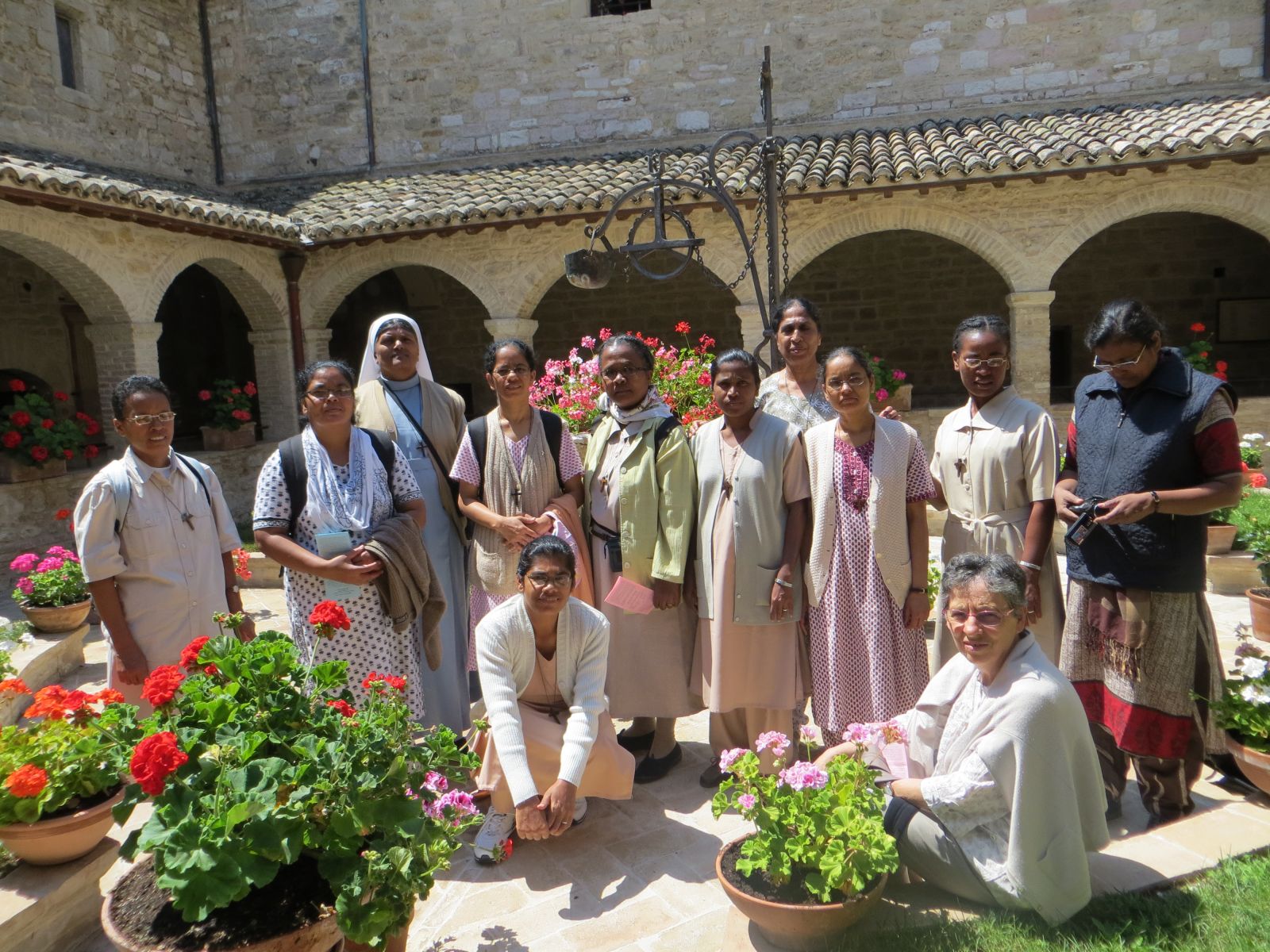 "When we give through us."- All of us believe that it is more blessed to give than to receive. Giving is an expression of generosity and love.
A man once stood before God, his heart breaking from the pain and injustice in the world. "Dear God, "he crowd out. "Look at all the suffering, the anguish and distress in your world. Why don't you send help? God responded," I did send help. I sent you." So each one of us is sent to help repair the broken world- and that it is not the task of an instant or of a year, but of a life time. The light we shine on others reflects back on us in some measure. By giving away to someone in need we are paying back to God who has always generous to us in everything .
It is the ability to love god and others authentically' integrally and completely. That is the centre and guiding criteria of a mature personality whether it is a well inserted personality becoming capable of promoting the person and the society along the adventures of life in which one is called. A person is a product of his or her own times. So also Francis and Marie Virginie. The personal history of these both brings to light the dramatic and romantic way of life.
A desire to be their own against the ideas of others The idea of the future made them so great as we see today. The confrontation with hunger, mockery, alienation, poverty' the littleness, all these contributed along with the passionate love for the crucified Saviour made Francis & Marie virginie to be more realistic and helped them to step out into the field of action with an ardent desire to serve the poor and humble of Christ. They could meet Jesus I their brothers and sisters. To do to others in return what has been done to her.
This makes us catch a glimpse of the faith young shepherdess which enables her to decide her future. She sees herself being consecrated to God, living with him in prayer and service of the poor. St. Francis says: I am what I am in front of God and nothing else. In the life of the saints we see the redemptive work of Jesus manifested through them by the Holy Spirit.
As pilgrims and strangers in this world to reach our heavenly home we need lamp lights and street lights and sign posts on our way to make our clear or path. This is a journey- to a life through faith. the study of the charism of the Franciscan servants of Mary has helped us to grow deeper in our understanding of the richness of our religious life, to live as poor and simple as these saints lived ,a life totally and wholly lived for God and others .F.S.m. congregation was born from this words of our Lord. "I am not come to be ministered unto but to minister. And that of our Blessed Mother." "Behold the hand maid of the Lord. It is an institution of pontifical right affiliated to the Third order Regular of St. Francis of Assisi and governed by the rule of St. Francis to live the Gospel life.
Urged by spiritual director Rev. Fr. Gautier, Marie Virginie, proceeded to the field of action for her apostolate- The little world of servants, domestic helpers, whom no one are for, to preserve them from dangers of their situation, to protect, to support, to encourage, to provide shelter for the homeless to make them like their situation, to teach and instruct them in their Christian obligation , in a word to live near to them "Jesus calls to Him whom He wants." (Mk.:3:13).
It is He who put in the heart of Marie Virginei the ardent desire "to do others what has been done to her. "And it is He still who at tours showed her the multitude of the poor who were in need of her compassion.
Poor at the service of the poor, Marie Virginei wished that we be the servants of the servants. she herself lived in the condition of a servant and thus in an attitude of faith, fraternity and simplicity she put herself at the service of the poorest. The youth of the humble working classes were her first concern.
Franciscan Servants of Mary are called to live preferably among the humble of the society and in their neighborhood, Marie Virginie, placed her confidence her trust in Divine Providence because she had nothing except 5 francs she looked after the domestics not from a pedestal delivering beautiful speeches but living as one among them; sharing with them what they had.
A sister to them in their struggles, finding employment for her protégées. Thus Marie Virginie's dream little by little was coming into fulfillment-'the protection of the feminine youth.
Always remain simple and little. You have been called to busy yourselves with the humble & little .If you are looking for promotion, putting on airs of superiority, those for whom you have been founded will no longer dare to approach you. Remain what you are if you want to be pleasing to God. "The field is vast, for you to spread yourselves out".