JUNIORS GET TOGETHER
Bangalore,
30.12.2018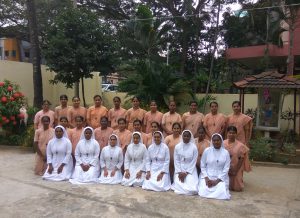 How very good and pleasant it is when kindred live together in unity!  (Ps 133:1)
These words of psalmist came true in us as we, 27 juniors came together for our juniorate from 26. 12. 2018 to 30. 12.2018.
With grateful hearts we look upon the Almighty for His manifestation of love towards each one of us. He brought us together to taste His love and to deepen our faith and trust in Him through different classes on prayer, discernment, vows and spiritual health check up, etc……….
We were privileged to have Rev. Fr. Terence SJ in our midst to enlighten us and to instil in us the deep desire for God's love through different topics. It was indeed a great and rich experience to hear his wisdom and thought provoking explanations. With the help of Sr. Regina, consolidating all these five days different sessions, we have taken few points as resolutions to follow in our community lives concretely. Those action plans are…….
 Give importance for personal and community prayer.
 Self discipline and be punctual for prayer and all the activities.
 Pray for humiliations.
 Be compassionate.
 Be humble, charitable and practise humility.
 Forgive oneself and others.
 Avoid gossip, curiosity and jealousy.
 Be aware of one's own self, weaknesses and correct one self.
 Accept the corrections positively.
 Co-operation and collaboration.
 Be generous and responsible.
 Handle the emotions responsibly.
 Detachment from family and materials.
 Transparency in money and relationship.
 Be available for mission.
The common recreations and the short programme for the community given were a chance to know one another and helped us to grow in unity.
Gratitude springs forth from heart that is filled with love and values. They vibrate positive energy and add colours of happiness to our lives. Yes, dear Sr. Reetha Paul (superior general), Sr. Miriam (provincial) for having granted us this golden opportunity. We acknowledge our deep sentiments of love and gratitude to our dear Sr. Regina for accompanying us, encouraging us and challenging us to live our called lives with Gospel values.
Indeed this gathering was a rich experience to all of us. It was also a time of refreshing and rejuvenating our spirit to live our consecrate lives authentically in the coming days. Once again we thank you dear sisters and we promise to live our committed lives joyfully and faithfully.
                                                                                         We remain grateful in love and prayers,
                                                                                                                            Juniors.