"TOGETHERNESS IS THE JOY OF SHARING GOD'S LOVE AMONG US"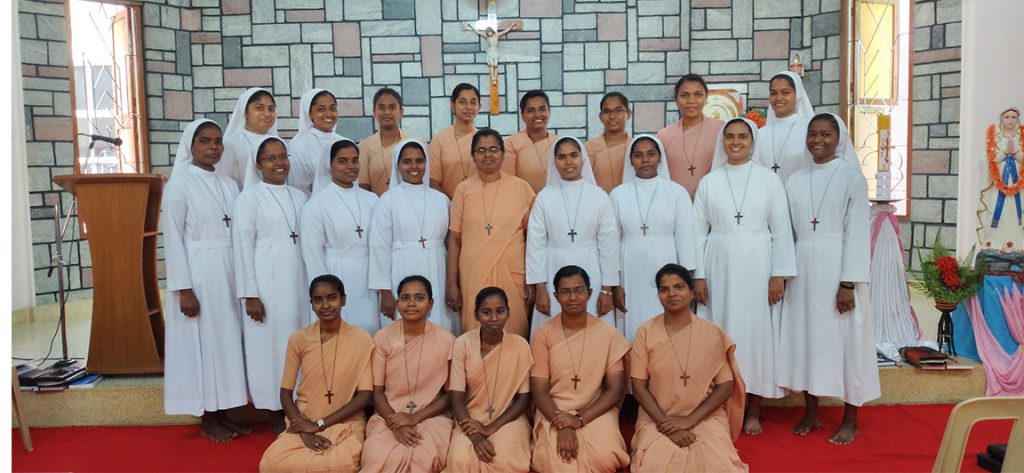 Coming together is a beginning, keeping together is a progress and working together is success.
We are indeed thankful to God for His graciousness for bringing us together to share the joy of our living of our commitment in our communities.
On 1st May we came together at Assisi Nilaya. It was a time of joy meeting each other and had a feeling of home coming when we received a warm welcome by our sisters of the community. The enriching of our Juniorate began with recalling with all the graces and experiences of God as we spent a day of recollection.
"Whatsoever you do to the least of the people that you do to me ".
Yes here we could extend our little service to the elderly people in Asha Bhavan and to the little ones in Swandhana through our exposure programme. The Lord made us to be patient and to be gentler to others.
"A smile has a beauty when it is seen on the face of others".
The smiling faces of the differently abled children of Swandhana melted our hearts to be cheerful witness of Christ in this world, especially when trails and pain over takes us.
It was grief ridden moments for all of us as we heard the sudden death of our dear Sr. Mariet, unexpected shock for us and we accepted it with faith.
Silver bells chimed sweetly everywhere and the angel sang the song of love to our dear sisters the Silver Jubilarians. On 15th of May we raised our hearts to God for his mercy and faithfulness for the 25 years of their consecrated life in FSM family. It was our joy to congratulate and to contribute our talents through various channels to our Jubilarians.
"A saint is the person who reflects the face of Christ"
We presented the lives of the saints who died at their young age, to the group which inspired us to respond to the call of God and enlightened our spirit to grow in holiness.
"The spirit of the lord is upon me and he had anointed me to bring goodness to the people". (Lk4; 18)"
"The moments of insights are sometimes worth life's experiences"
The spirit filled retreat recharged our spirit to become one with the Heavenly Father, Jesus and the Holy Spirit. We are emerged in the Word of God and renewed in our spiritual journey in order to become a spiritual person in relationship with the Holy Trinity.
With all these rich experiences and the accompaniment of our blessed mother we returned to our respective communities to be with Him and to be sent out to proclaim His goodness by our witnessing life.
We express our gratitude to Sr. Miriam our provincial and Sr.Amali for arranging this get together for the juniors which has strengthened us in faith and service of God.
Juniors
Assisi Nilaya
Bangalore